Today was the first official day of the SharePoint Conference 2011 and of course I was up early because of the time zone difference. I went over to the meals hall at the convention center and it is HUGE! there is enough room there to feed 7500 people. When I got in to get my food, there was literally a wall of staff directing people to the last tables at the end of the room. There must have been about 200 staff members there to direct the traffic. They did a great job doing that because there was no holdups anywhere.
Here is the meals hall:
Headed to the Keynote speech right after the meal and on our way there, I noticed there was a marching band passing by outside so I went to check it out. Turns out it was Huddle – a software vendor that is trying to do direct competition with the SharePoint platform – that had hired a high school marching band to walk straight through the SPC11. I think it was a childish move that will not win them much love by anyone from the SharePoint camp.
The ambiance at the keynote however was great with DJ Kameleon playing his tunes on stage. You can hear his mix online here!!!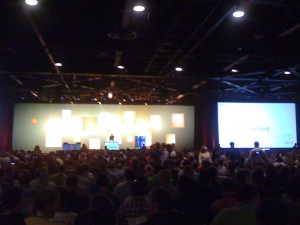 Jared Spataro, Senior Director of SharePoint Product Management, came up on stage and presented a bunch of very exciting figures like 125 Million licenses across 65,000 customers and how a large percentage of Fortune 500 companies use SharePoint in their enterprise. He then presented an update that will be done to Office 365 – the ability to connect to Line Of Business (LOB) data using BCS to a web service on premise. This will greatly enhance the capabilities of Office 365 by removing the boundary of having all the data in the cloud.

We saw a cool demo of a SharePoint farm that was running on servers on stage – crazy hardware like 1TB of RAM on the blade for the servers and 80 CPUs. The Sharepoint environment was configured with 6 WFE servers and 4 application servers (2 for FAST) with a SQL Denali CTP3 Database cluster configured for redundancy. They were running this environment with an automated load of 7,500 concurent users continuously hitting the site to simulate 150,000 users aproximately.
The Sharepoint site was loaded with 130 million documents for a total of 14TB of data in a single sharepoint content database. 14TB, without Remote Blob Storage (RBS).
They did a test of FAST using the search query '#' which is a special keyword I learnt about at the FAST training yesterday, that returns all available results in the FAST Search Index – 130,000,000 records returned in 0.23 seconds!
Then they pulled a crazy move on stage in front of the audience – they pulled the network cable that was feeding the main SQL server. The full 14TB Database was back online on the hot standby SQL Server within 40 seconds. Crazy redundancy.
I still cannot get over the fact the content database was at 14 TB.
The full Scale Test Report for the demo from the keynote is available here.
We were also shown another demo of an Azure application that is used to collect voting results and storing the content to an Office 365 SharePoint application. Pretty cool demo and here is the link so you can go cast your vote to tell Microsoft how to allocate the $50,000 they will be donating: http://www.mssharepointconference.com/pages/nethope.aspx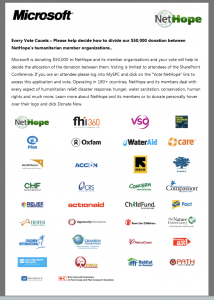 Thank you Microsoft for supporting these charities.
Breakout Sessions:
I attended two breakout sessions today:
Session Title: Creating Beautiful and Engaging Web Sites with SharePoint
2010
Session Code: SPC216
Speaker(s):  Randy Drisgill , John Ross
Presented By: MVP
Level: 200
Abstract: The process of building, branding and delivering a
beautiful web site is more than just skin deep. In this session we will walk you
through best practices for planning, creating and deploying engaging web sites
with SharePoint 2010. We will also share best practices around the branding
process with lessons learned and examples from real world SharePoint branding
projects.
Comments: This session was pretty good – of course level 200 but I really wanted to see Randy Drisgill present his session. I have mentioned Randy a few times here on my blog as he is the one that created the Starter masterpages on CodePlex and the Real World Branding with SharePoint 2010 article from MSDN, both mentioned in my articles here. The attendance to this session was pretty high – i'd say 900 to 1000 people showed up. Good job Randy and John. Lets hope you guys continue working with SharePoint and won't actually start your breakfast consulting company :).
Session Title: Deep Dive: Excel Services and PerformancePoint Services Administration and
Troubleshooting
Session Code: SPC403
Speaker(s):  Kevin  Donovan
Presented By: Microsoft
Level: 400
Abstract: This deep dive session will walk you through the
necessary steps on how to setup and administer Excel Services and
PerformancePoint Services. We will address common issues and workarounds,
focusing on data connectivity, to help you build a robust platform for
provisioning Excel Services and PerformancePoint Services in your BI
environment. Finally, we will demonstrate how to build an Excel Services report
in PerformancePoint.
Comments: It was a pretty deep session into the issues that one might encounter in using Excel Services and PerformancePoint Services. Kevin Donavan is very knowledgable and presented these challenges and their resolutions pretty good. Good presentation Kevin.
This concludes my Day 1 report for now, I will update it later tonight – getting ready for The RED Party at Heat Ultra Lounge with AvePoint.