In this #SPC11 Series:
Welcome to this last post on the SharePoint Conference 2011 series. This morning I managed to grab one last session:
Session Title: 36 Terabytes: How Microsoft IT Manages SharePoint in the Enterprise
Session Code: SPC294
Speaker(s):  Nate Bruneau, Jim Adams
Presented By: Microsoft
Level: 200
Room: ACC:
204
Abstract: Microsoft's internal SharePoint services provide 180,000
global users a comprehensive collaboration experience hosting 36 terabytes of
content across three regional data centers. Learn how Microsoft IT architected,
deployed, and manages its SharePoint enterprise services. Topics include:
•Upgrade from 2007 to 2010 •Provisioning & Automation •Architecture •Storage
•Virtualization •Disaster Recovery •Monitoring Tools & Best Practices
•Governance and Life Cycle Management •Maintenance and Quality Control Auditing
•How the Cloud and Office365 fit into MSIT's future
Comments: This session shows the many custom tools that Microsoft IT uses to manage their huge farm that hosts 34 Terabytes (not 36, they decommisioned a site and it freed up 1.6 TB) spread across hundreds of thousands of site collections and servers. They detailed how they do health management, scripted installations and gold configuration monitoring and reporting.
They detailed their site provisioning process, the sensitivity and mission criticality level tag that they put on all the page headers, their disaster recovery plans and scenarios, as well as future expansion and moving ito the cloud. It was a pretty cool session. Thanks Nate and Jim.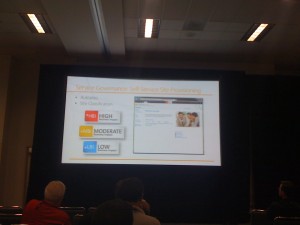 After the session, there was a few other things happening in the exhibit hall. There were lunch boxes being distributed – of course by the time I got there, there was only vegetarian boxes left… tons of them… and people complaining. We waited around for the final Avepoint draw for the Ducati Monster motorcycle. I didn't win. Not much luck I guess.
We then rented a car for the last day of our trip – a Dodge Charger. Not as impressive as the Camaro, not as nice a ride either but it got us back to San Diego for some more shopping and for a last dinner before leaving back home. We went to Ruth's Chris Steakhouse for the most amazing ribeye steak. Cooked to perfection. Best steakhouse ever.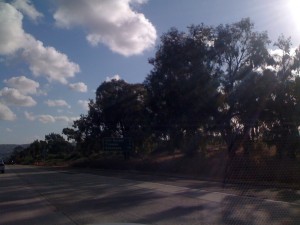 Drove back and the next morning, we checked out of the hotel early for one last visit to Laguna Beach, from the vista point, you get an amazing view of the whole area. I'd move down to Laguna Beach in a heartbeat :).
Headed to the airport and flew back home. No delays, or issues, just a lot colder weather when I got home. O lovely Canada!.
Now how do I get palm trees to grow here??? Anyone???