Hi everyone, thanks for visiting. If you have not had a chance to read the other posts in this series on the #SPC11, here are the links to them:
SharePoint Conference 2011 Day 0 Report
SharePoint Conference 2011 Day 1 Report
SharePoint Conference 2011 Day 1 Report Update – SPC12 and RED Party
SharePoint Conference 2011 Day 2 Report
This post is only an update of last night's Disneyland Party. I left the Hilton Hotel at 7PM to head over to the shuttle service. The shuttle service brought us directly to the Disneyland park and once we got there, there was an initial checkpoint to check bags, then we waited in a first zone until they opened the gates at 7:50pm, this second gate checked the bracelets. Once this second gate was passed, we waited again until the park opened up.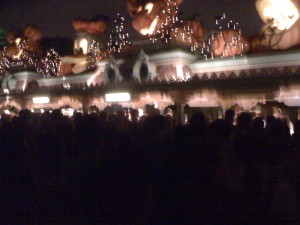 Once the park opened up we were guided to the west side of the park where the dinner was served. I managed to get food and sat at a table. The food was cold and not that great but there were extra items available throughout the evening (churos, cotton candy, popcorn and popsicles). There was also a lot of tables to serve drinks which were also provided by the party sponsor – Neudesic. After eating, I managed to find a few guys that are at the conference with me and we waited around for the east side of the park to open. We went and did the Buzz Lightyear Astro Blasters ride, Autopia ride then Space Mountain and a few other rides. Not all the rides were open for the party and some of the rides had longer wait time (Bobsled).
We also went to Splash Mountain and half way down the entry pathway, the other guys dropped out. I went on the ride alone and of course got soaked but the ride was fun so I didn't mind.
There was a DJ playing music in the center of the park, and itr was being broadcast throughout the park.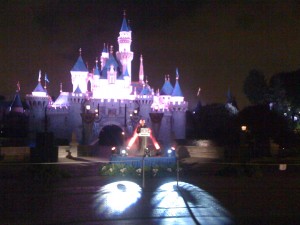 We didn't stay too late and took the shuttle back. I was a bit disapointed with the size of the park – I have been to the DisneyWorld and it felt like this park was like 1/50th the size of Orlando's Parks.
Here is a map of the park:
Overall it was a very enjoyable evening. Thank you Neudesic and Microsoft!
Here are a few other pictures of the evening:
Stay tuned for the Day 3 update later this evening.
Thanks for stopping by. Please RT and follow on twitter @matdesmarais